Submitted by Margo Wright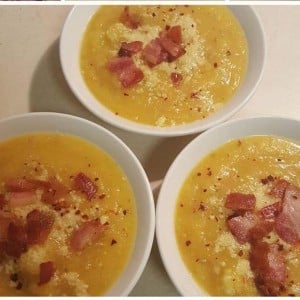 Vege and Bacon Soup
Ingredients
1 big sized cauliflower

5 carrots

5 potatoes

1 big red sweet potato

2 leeks

2 onions

3 tbs minced garlic

700gms bacon (any type)

1tbs paprika

1tbs cayenne pepper

1tbs roast veg seasoning

1tbs garlic + herb seasoning

1tbs parsley

3L vege stock
Instructions
1. Chop everything. Fry half of the bacon and save for later. Leave other half to add to slow cooker (SC)

2. Add everything into SC and put on high for 4 hours (or low for 8)

3. Once cooked, blitz all together while leaving some chunks of veges (we preferred that)

4. Sprinkle some fried, crunchy bacon on top, a dash of Parmesan and a bit of cracked chili.

TOAST

1. Toast as many bread as you like until they are slightly brown.

2. Butter them, sprinkle garlic granules and Parmesan on top and grill for 10 mins.

Enjoy!

You can add and take away whatever veges you want but I just added what was in the fridge.