Submitted by Felicity Barnett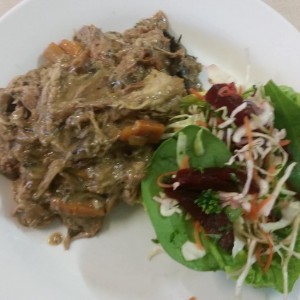 Pulled Pork with Mushroom sauce
Ingredients
1.5 - 2kgs Pork

1/2 kg Baby Carrots or thick sliced

1 large Onion, diced 

3 Cloves Garlic, crushed 

750gms Mushrooms (swiss and button, sliced 

400mls Chicken or Vegetable stock

300mls Cream (I used Zymil LF)

1 tblspn Parsley, fresh 

1 tblspn Basil, fresh

1 tblspn Majoram, fresh

1 tblspn Oregano, fresh

1 tblspn Thyme, fresh 

1 tblspn Corriander, fresh

1/2 tblspn Rosemary, fresh

3 Bay leaves, fresh 

1/4 tspn Cumin

1tsp Tumeric

2 tspns Coconut Sugar

pinch Cracked Pepper

Juice of 1 Lemon, small

2 tblspns Cornflour
Instructions
Place carrots in bottom of slow cooker bowl.

Sit pork on top.

Tip vegetables and herbs over pork.

Combine stock, cream, lemon juice, cumin, tumeric, sugar, pepper and cornflour in a jug. Pour over everything in slow cooker bowl.

Cook for 3hrs high and 5-6hrs low (Contempo 5.5L sc)

Remove bay leaves, shred and serve.

Would feed 6-8 depending on what you serve with. I have some having with salad, some in bread rolls and some with rice.
NOTE--
Egg, Gluten, Lactose and Soy free