Submitted by Bianca Pavia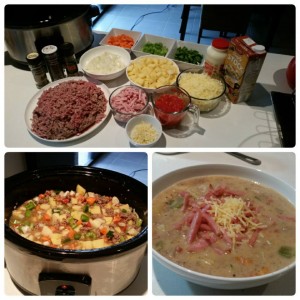 Bacon Cheeseburger Soup
Ingredients
500 Grams mince beef

1 Can diced tomatoes, drained

4 Cups chicken stock

1-2 Cups water

4 cups potatoes, peeled and cubed (Roughly 4 medium sized)

2 cups sharp cheddar cheese, shredded (250 gram block)

1 cup heavy cream

1/2 cup carrot, chopped

1 Small green capsicum, seeds removed and diced

1/4 cup all-purpose flour (Or Cornflower)

3 cloves garlic, minced

2 ribs celery, chopped

1 large onion, chopped

1/2 teaspoon chili powder (optional)

1tbsp Onion Powder (optional)

1tbsp Garlic Powder (optional)

1tbsp Dried Parsley

Kosher salt and freshly ground pepper, to taste

2 Cups of shredded bacon to serve
Instructions
Brown mince beef in a fry pan before putting into the slow cooker to help remove any excess fat or oil. I like to add Onion powder and Garlic powder during this stage. (Optional)

Place mince beef, tomatoes, potatoes, carrot, capsicum, onion, celery and garlic in your slow cooker and pour chicken stock over the top

Season with salt and pepper, chili powder (Optional) and dried parsley then stir everything together. Cover slow cooker, turn on HIGH and cook for 3-4 hours, or until vegetables are softened

If you require more liquid during cooking time, add a cup or so of water to get the consistency you desire

Once vegetables are soften or have been on for 4 hours, stir flour (or cornflower) into heavy cream until no chunks remain, then pour mixture along with cheddar cheese into slow cooker

Stir to combine, then cover and cook for another 20-30 minutes. I prefer to leave my lid off during this stage to help this soup thicken up.

While soup is thickening up, cook bacon in a fry pan until crispy.

Ladle into soup bowls, top with cheese and crispy bacon and serve hot!

Served mine with fresh buttered rolls and Parmesan cheese.