Submitted by Rozi Pottsy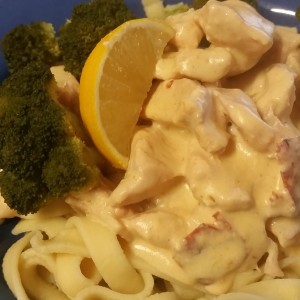 Sweet Bachicken
Ingredients
500g diced chicken breast

200g bacon (or 3 slices)

250g cream cheese

2 x salami slices

4 mushrooms sliced

1/2 teaspoon sweet paprika

1/2 teaspoon chili flakes

1/4 cup sweet chili sauce

1/4 teaspoon red curry paste

(1 teaspoon cornflour & 1 tablespoon water if required)

1 lemon (for garnish/squeezing over end dish)
Instructions
Slice salami/bacon/mushrooms and place into slow cooker bowl with chicken.

Cut cream cheese into blocks and put over the top of the chicken

Mix paprika, chili flakes/chili sauce/curry paste together and pour over chicken & cream cheese.

Stir altogether

Cook on Auto for 2:30 (High, for 2:00, low for 00:30)

No teatowel required

With about 00:30 to go, I added a slurry of cornflour and water and stirred through the mixture to prevent cream splitting.
Notes
I only stirred this in the last hour to ensure it was all mixed through. It does remain quite thick until the last 30 minutes when it thins out

I used a 3.5l Breville Meal Maker which cooks hot, so you may need to adjust cooking times to your own slow cooker

This was served with fresh pasta & steamed vegies.

It would also be fine served with vegies on the side, and a serving of rice.

I squeezed a slice of lemon over the top just to add a bit of tang to the dish.

This dish does have a slight 'kick' to it - you can omit the curry paste if you choose