Submitted by Paulene Christie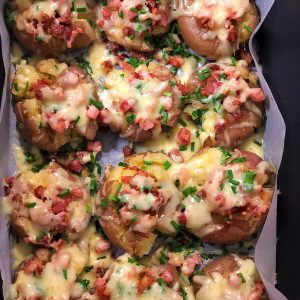 Smashed Potatoes
Ingredients
12 baby red/russet potatoes

200g diced bacon

Herb and Garlic seasoning/salt

Fresh chives, diced

2T butter

1 cup grated tasty cheese
Instructions
Lay down a sheet of non stick baking paper in slow cooker

Place whole baby potatoes in single layer, spaced out in slow cooker

Cook with tea towel trick in place on HIGH for 2.5hrs or until tender when tested with fork

Pan fry bacon for 10mins until crispy

Using a potato masher, smash down each potato top to about half way down

Top each smashed potato with a ½ tsp of butter, cooked bacon, seasoning, chives and finally cheese

Continue to cook on high, with tea towel still in place, for 20 minutes more or until cheese melted through

Use an egg flip to carefully lift out each topped potato to plate
Notes
You can make as many as these tasty potatoes as you need or can fit in your slow cooker but I have based the measurements on 12 baby potatoes to serve 6 people.

We have these as a perfect side dish to a BBQ night!

You can also vary the toppings to anything else you may like so you never have to have the same versions more than once if you don't want to!