Submitted by Ronda Hannen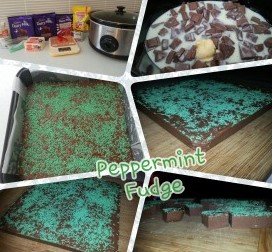 Peppermint fudge
Ingredients
490g pain chocolate

1 Tbs peppermint extract

1 Tbs butter

1 can condensed milk

Green sprinkles (for decoration)
Instructions
Break up the chocolate

Put everything in the slow cooker

Cook on HIGH for 45 mins or more

Stir every 10-15 min with a metal spoon

Pour into a lined tray (I use baking paper, leave a bit over to pull out)

Sprinkle the sprinkles on, put some baking paper on the top and gently press the sprinkles in.

Put in the fridge to set for 2-3 hours or until the middle is firm.

Gently pull out and cut into desired pieces.

Enjoy!