Submitted by Candice Burgess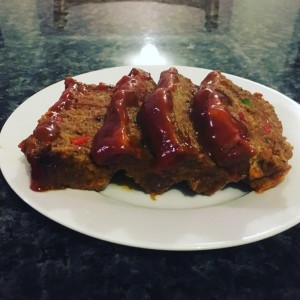 Meatloaf
Ingredients
2 eggs

2/3 cup bread crumbs

3/4 cup of milk

3/4 packet French onion soup

1 teaspoon of keens curry powder

1 teaspoon of minced garlic

700 - 1000 gms Beef Mince ( pending on how big your tin is )

1/4 cup Tomato Sauce

2 tablespoons brown sugar

1 tablespoon mustard

1/2 teaspoon Worcestireshire sauce

1/2 red capsicum

1/2 green capsicum
Instructions
Combine eggs, milk, bread crumbs, garlic, capsicum and dry soup mix in a large bowl.

Crumble beef mince over mixture and stir well to combine.

Shape into a round loaf; place in a baking paper lined rectangle tin in the cooker.

Cook on Low for 3 1/2 hours - 4 hours.

Whisk tomato sauce, brown sugar, mustard, and Worcestershire sauce in a small bowl, spoon sauce over meat loaf in the last 20 mins.

Let stand for 10 mins before serving ?