Submitted by Felicity Barnett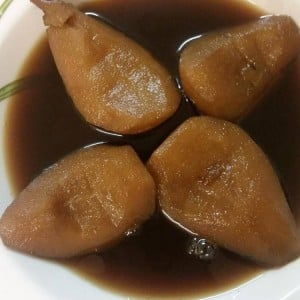 Coffee Poached Pears
Ingredients
4 Pears, peeled, cored and cut in quarters

500 mls Espresso coffee, freshly brewed

1/4 cup Brown sugar

1 Vanilla bean, split
Optional Side--
Honey Cinnamon Yoghurt/Icecream

100g low fat Yoghurt or Vanilla icecream

1 tbspn Honey

1/4 tspn Cinnamon
Instructions
Place coffee, sugar and vanilla bean in slow cooker bowl.

Turn slow cooker onto high and leave for approx 30 mins.

Gently place pear quarters in liquid.

Cover with a piece of baking paper to ensure they stay covered by liquid.

Replace lid on slow cooker.

Cook for 1.5-2.5hrs (1.5L Woolworths sc), until pears are tender.
Notes
Remove vanilla bean from poaching liquid prior to serving.

As a dessert serve pears with poaching syrup and yoghurt or icecream if using.

Can also be served for breakfast with yoghurt or cereal.

Pears will keep for 3-4 days in fridge in a firmly sealed container.
Optional Side--
While pears are poaching mix yoghurt or ice cream, honey and cinnamon together in a small bowl. Chill in fridge/freezer until ready to serve.