Submitted by Kathy Flatman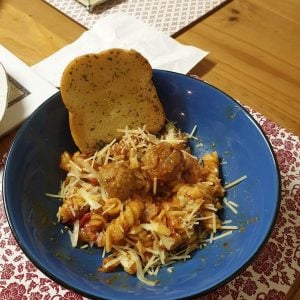 Meatballs and Pasta
Sensational tasty meat balls with a slight bite.
Ingredients
1/2 a pack of coles pork and beef meat balls (28 in a pack, you can freeze the rest)

1 tbls olive oil

1 sm onion finely chopped

2 tsp minced garlic

1tsp minced chilli

1 400g tin cherry tomatoes

1/2 c wine, i used white

1/2 tsp beef stock

1 tbsp tomato sauce

1 tsp dried basil

1 tsp Italian herbs

1 tsp sugar

1 cup small spiral pasta
Instructions
Heat oil in a frypan and brown meat balls, onion, garlic and chilli.

Add to 1.5ltr slow cooker

Combine all other ingredients except except pasta in a jug. Mix well and add to slowcooker.

Cook high 1hr then switch to low and cook for a futher 3 hrs.

Add uncooked pasta and cook on low for 1/2 hr or until pasta is tender.

Serve with garlic bread and topped with cheese.