Submitted by Holly Lynch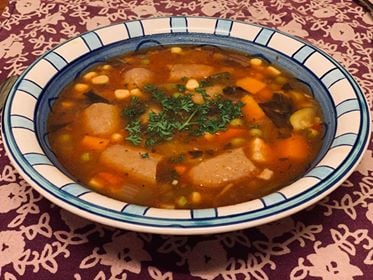 Sausage Hot Pot Soup
Ingredients
12 or more Sausages

Large diced Onion

2 or 3 diced cloves of Garlic

1 litre of Beef stock

Tin of Baked Beans

Tin of rinsed Three Bean Mix

Tin of Corn, with its water

Tin of Tomato Soup

Cup of chopped Celery

2 peeled & chopped Carrots

2 peeled Potatoes, cut into small pieces

1 Sweet Potato if you fancy it.

Pinch of Turmeric

Italian Herb mix

Fresh chopped Parsley

2 Bay Leaves

A dessert spoon of brown sugar if you find its too acidic.

Cracked Pepper

Pinch of Salt
Notes
* You could add a pinch or two of curry powder if you like.

* You can also add Turnips, Parsnips or Swedes which is especially great for menopausal women.
Instructions
Pre cook sausages briefly, or use leftover sausages. Drain on paper towel.

This isn't necessary but less fatty than cooking raw sausages in the soup.

Cut sausages into bite size pieces, add to slow cooker with all other ingredients.

Top up with extra water to cover everything.

Cook on Low for 6- 8 hrs.
Notes
Leftovers freezes well

This is a family favourite passed down from my lovely Mum, Dottie.

Serve with crusty bread and butter.