Submitted by Kathy Flatman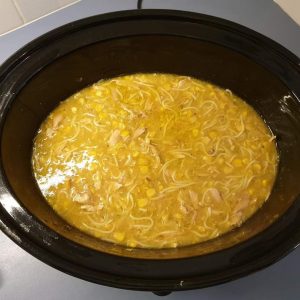 Chicken Noodle Soup
A simple and delicious soup. The longer it cooks the better.
Ingredients
1kg chicken drumsticks

1 leek sliced

1 400g tin corn

1 400g tin creamed corn

1 40g pkt chicken noodle soup salt reduced

1 1ltr carton chicken stock

1 cup water

4 - 8 drops sesame oil

1 tbls dried parsley

50 - 100g fine spaghetti
Instructions
Add everything except spaghetti to the slowcooker.

Cook on low 7-8 hrs or overnight.

Remove chicken drumsticks from cooker. Remove skin and bones. Shred meat. Return to slowcooker.

Break up spaghetti, add to slow slowcooker. Cook on low until tender.

Serve with crusty bread.