A quick put together potato bake
Submitted by Karen Stuckings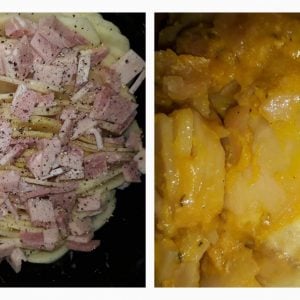 Easy potato bake
A quick put together potato bake
Ingredients
6 medium sliced potatoes

6 slices of short cut bacon chopped

freshly ground black pepper

1 tin pumpkin soup (500 grams)

250-300ml cooking cream

1 cup grated cheese
Instructions
Lay slow cooker insert on its side and stack sliced potatoes, don't pack too tightly

Put insert into slow cooker base

Evenly sprinkle bacon and pepper over potatoes

In a bowl/jug mix soup and cooking cream

Tip soup mix over potatoes

Cook on auto 8 hours

Sprinkle grated cheese over potatoes

Cook another 30 minutes with lid off or until cheese melted
Notes
Any condensed or normal soup can be used or even home made soup.

Other things that can be added are garlic to the soup mix or sliced/chopped onion to bacon step. Cooked in Russell Hobbs 3.5L which cooks on the cooler side so time may need adjusting depending on slow cooker

No tea towel is used but lid is left off after adding cheese.