Crock-Pot XL EXPRESS CROCK Multi-Cooker
We recently reviewed the original Crock-Pot Express Crock Multi-Cooker but now we are back with the second model in that series … the EXTRA LARGE version.
But that's not all that's changed ….
This new model has something that, in my opinion, every other multi cooker on the market is missing!
The XL Express Crock comes with an optional second glass lid to use in slow cooking (so you don't have to lock down the big bulky pressure cooker lid when using settings that don't require pressure)
Now that's the sort of innovation you expect from the Crock-Pot brand!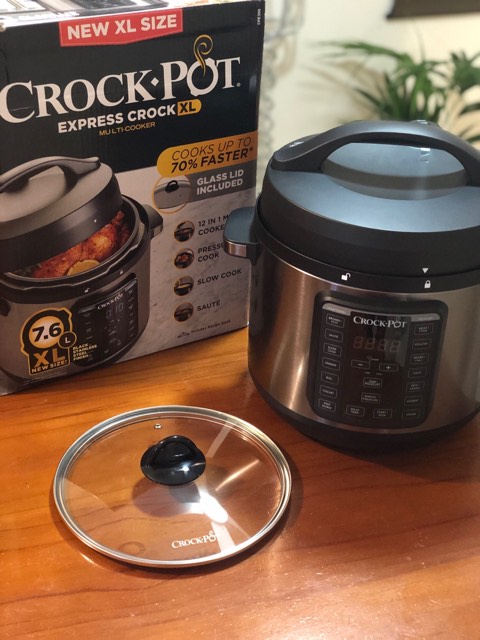 Can you believe how much this one machine does?
Slow Cook
Saute and Brown/Sear
Boil or Simmer
Keep Warm
Meat/Stew
Beans/Chilli
Rice/Grains
Poultry
Dessert
Soup
Manual Pressure Cooks
Steam

The XL Express Crock from Crock-Pot does so much, we need to look at it in more detail 🙂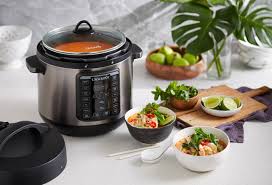 This 12 in 1 multi cooker is the single appliance, simple solution to all your mid-week meal dilemmas. So you can spend less time in the kitchen and more time enjoying the dining experience with your family and guests instead.
Let's break it down into its many functions first for you one by one, so we can truly appreciate all the ways you can cook in this one single Crock Pot appliance … starting first of all with the slow cooking … naturally 🙂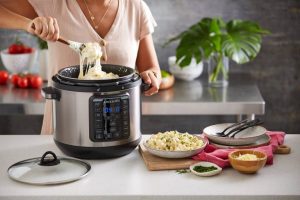 Slow Cooking Function
What I was most pleased to see was that unlike many other multi-cookers, the Crock-Pot EXPRESS CROCK features both LOW AND HIGH slow cooking settings. Trust a brand like Crock-Pot to know how valuable that option is! This means that you can select the temperature specific to what your recipe needs to ensure the perfect outcome every time 🙂
And as an extra bonus this machine also includes a KEEP WARM setting. This means that when the cooking time is completed, the multi cooker automatically switches to keep warm to keep your cooked food warm and ready to serve for up to 4hrs maximum.
As I mentioned above this great machine comes with 2 lids. During slow cooking you can use the glass lid which allows you to still use the TeaTowel Trick which we do in many of our recipes 🙂 – another feature that many multi-cookers don't allow, so this was a huge drawcard for me when reviewing this XL EXPRESS CROCK.
Well done Crock-Pot!
The digital display allows you to easily choose your slow cooking mode, then choose your cooking time (up to 20 hours in 30 minute intervals). That cook time countdown display then changes over to a keep warm countdown display also, so you can always see at a glance on the screen how long your recipe has left to cook.
If you are someone who likes to brown/seal before slow cooking you can also use the "Brown/Saute" function first (detailed next below) and then switch over to slow cooking after that. You can read more about the pros and cons of this in our article here. This same setting can also be used to thicken sauces and make gravies at the end of your slow cooking process.
Brown/Saute Function
Next let's look at the brown/saute function of the Crock-Pot XL EXPRESS CROCK Multi-Cooker.
This setting does not work under pressure and is much like a standard cooking method, requiring a dry heat, and therefore does not require the lid.
Use this setting to brown (sear) meats, or to saute ingredients (eg onions) prior to slow cooking or pressure cooking. The benefits of doing so are again listed here.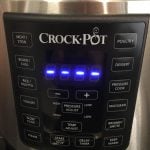 Pressure Cooking Function
Next let's explore the many features of the pressure cooking settings.
There are 8 functions which cook under pressure – detailed below
Pressure cooking is an ideal way to create a quick, flavourful meal when time is short!
Pressure cooking is a method of cooking food in liquid, in a sealed cooking pot, where steam is retained, pressure builds and temperatures of the liquids inside the pot exceed boiling point. This increased temperature and retained steam results in the reduced cooking times. Ideal meals to pressure cook include soups, stocks, casseroles, sauces, meat, rice, firm vegetables and some desserts.
The pressure cooking function also operates with LOW, HIGH and KEEP WARM options.
NOTE: It's absolutely necessary to read all the safety and instructions and tips in the user guide before using this pressurised setting to ensure you do so safely. The high temps and high pressures involved make this very important!!

Program options under pressure allow:
Meat/Stew – 2 hr cook time range, in 15 minute intervals, on low or high pressure, default of 35 minutes
Beans/Chilli – 4 hr cook time range, in 1 minute intervals, on low or high pressure, default of 20 minutes
Rice/Grains – 30 minute cook time range, in 3 minute intervals, low or high pressure, default of 12 minutes
Poultry – 2 hr cook time range in 15 minute intervals on low or high pressure, default of 15 minutes
Dessert – 2 hr cook time range in 5 minute intervals on low or high pressure, default of 10 minutes
Soup – 2 hr cook time range in 5 minute intervals on low or high pressure, default of 30 minutes
Manual Pressure Cook – 4 hr cook time range in 1 minute intervals on low or high pressure, default of 30 minutes
Steam – 1hr cook time range, in 1 minute intervals on low or high pressure, default of 10 minutes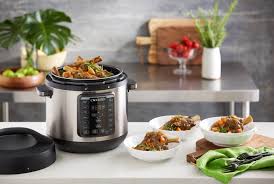 Steaming Function
The steam function is perfect for gently steaming fish and vegetables.
The EXPRESS CROCK unit comes with its own steaming rack also 🙂
The user manual has an extensive list of food types that specifies the amount of food, amount of water, how to pre-prep them for steaming and then a cooking time guide for how long to steam for. Crock-Pot make it easy for us to have kitchen success!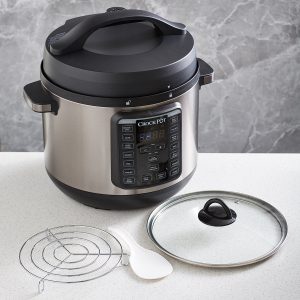 Rice Cooking Function
You can now give away that extra rice cooker appliance you've got taking up cupboard space in your kitchen, because the Crock-Pot EXPRESS CROCK takes care of this for you too!
The rice cooks under pressure for faster cooking 🙂
This is suitable for all types of rice, including white and/or brown rice
And the unit comes with a plastic rice spoon to use too.
After cooking time has elapsed the rice will switch to KEEP WARM mode for up to 4 hours until you are ready to serve.
Yoghurt Function
The yoghurt cooking function doesn't operate under steam so you can use the standard pressure lid (with the pressure release open) or the glass lid 🙂
The default cooking time is 8hrs on low temp but can be programmed from 6 – 12 hours on high or low
Keep Warm
Remember that the keep warm function is for keeping cooked food warm, not for cooking food.
The keep warm function will operate for up to 4hrs but some food quality or taste may not be ideal on such extended periods of warm so you can turn it off and serve earlier if you are ready.
Timer Delay Option
This multi-cooker allows you to delay the start of your cooking (for a maximum of 4hrs) so that cooking finishes when you need it. However what's MOST IMPORTANT to note, and what Crock-Pot also specifies in the manual, is that timer delays should never be used for perishable ingredients such as meat, fish, eggs or dairy as these may spoil!
More info on the issues/risks of timer delays can be read in detail here.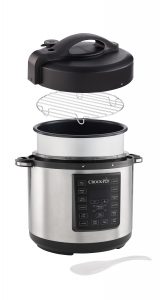 Features and Inclusions
Massive 7.6L capacity cooking pot. Easy to clean, non-stick coated. Volume markings for capacity fill levels
Large Pressure lid or glass lid both included
Removable power cord makes for easy storage
Digital control panel
Locking lid with handle and steam release valve
Condensation collector, easy to remove and empty
Plastic spoon and steaming rack included
Cooking pot is dishwasher safe. It is not to be used in oven, microwave or on stove, in unit only
Unit comes with detailed user guide and trouble shooting tips
Fantastic recipe book included with recipes to use in your crock across all cooking settings
All these MANY features in one simple to use unit means less clutter in your kitchen, less cost to you AND the best bit, you spend less time cooking your food and more time enjoying it with others 🙂
With the launch of this XL EXPRESS CROCK Multi-Cooker, Crock-Pot make feeding your family, or entertaining a crowd simple and easy!
RRP: $199 AUD
You can also find out more on Crock-Pot here:
Instagram: CrockPotAUNZ
Facebook: CrockPotAUSNZ
Crock-Pot Website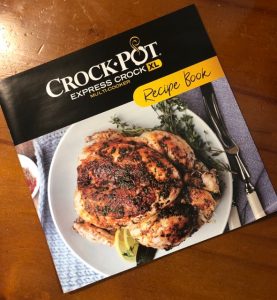 .