Submitted by Jane Kannar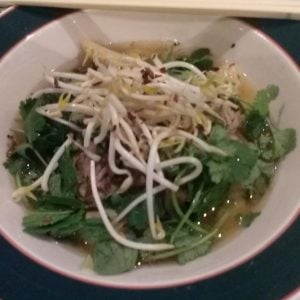 Vietnamese Noodle Soup
Ingredients
1 - 2 Pork Fillet or 2-3 x chicken breast fillets

Rice Vermicelli Noodles

2L Stock (chicken/Veg)

5-6 Star Anise

4 Cloves Garlic, sliced

5cm piece Ginger, sliced

2 stalks Lemon grass, bruised

Chilli, fresh or flakes (optional)

Veges (eg.Broccoli, Bok Choy, Cauliflower, Baby Corn, Mushrooms quartered, Carrot)

Fresh Coriander, Basil, Mint (vietnamese if you can get it)

Lime, cut into quarters

Bean Shoots

Shallots (spring onions),green part, sliced thinly
Instructions
Add Garlic, Ginger, Star Anise, Lemon Grass and Stock.

Cook for a couple of hours or until fragrant (the longer the better)

Add Pork Fillet or Whole Chicken Breasts

Cook for approximately 3 hours on Low or until Meat is cooked through

Add veges 30mins before serving.

Meanwhile cook Rice Vermicelli noodles (boil water, pour over and soak for approx 5mins, drain)

Prepare fresh herbs and add to a plate with bean shoots + lime wedges, served separately

In a large bowl, add noodles, top with sliced Pork or Chicken, Veges and broth

Sprinkle with Shallots and chilli (optional)

Add your own selection of fresh herbs, bean shoots and a squeeze of lime juice

Stir through and enjoy!