Love sweet chilli sauce? Make your own! 🙂
Submitted by Bernadette Mauro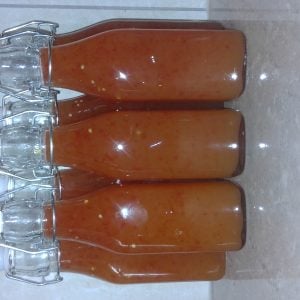 Sweet Chilli Sauce
Love sweet chilli sauce? Make your own! 🙂
Ingredients
1kg castor sugar

5 cups white vinegar

4 birds eye chillies

2 medium to large red capsicum

4 heaped tablespoons plain flour
Instructions
Blitz whole chillies and capsicum in food processor until desired texture is reached.

Add all ingredients except flour to slow cooker bowl, cook for 4 1/2 hours on high with lid on.

Remove lid and take approx 1 1/2 cups of liquid out of slow cooker and put in a separate bowl add flour and whisk until smooth.

Return the sauce a flour mix to slow cooker and cook for a further 1/2 hour with lid off.

Bottle in sterilized bottles.