Who doesn't love easy!?
Submitted by Jak Bayby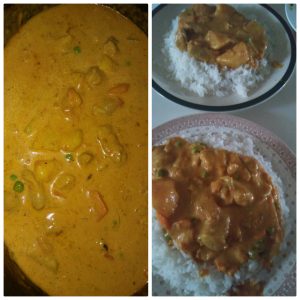 Easy Curry sausages
Who doesn't love easy!?
Ingredients
6-8 sausages

2 medium-large potatoes

1 bok choy

1 carrot

1 onion

1 cup of peas

1 400ml can coconut cream

Curry to taste
Instructions
Browned sausages in sc on high for about 10 minutes with a small amount of water...

Then turned onto auto and added everything chopped into chunks except coconut cream and peas...

Cooked on auto stirring occasionally for around 4 and half hours then turned on low...

I added coconut cream and peas 15 min before serving on a bed of rice...delicious ?

You could add any vegetable really if wanted to chunk up the quantity...enjoy

You could cook it for 4-5hours on high and be ready or around 6 hours on low...