Great spicy kick on summer salads and burgers or as a winter warmer on schnitzels and white meat roasts
Submitted by Elly Groves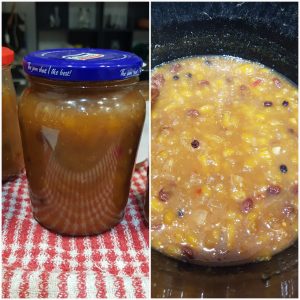 Spicy Tropical Mango Chutney
Great spicy kick on summer salads and burgers or as a winter warmer on schnitzels and white meat roasts
Ingredients
Main ingredients
1kg mango flesh (~2kg mangoes)

~150g tinned pineapple (3rings)

2 small granny smith apples

1 birds eye chilli

1/2 cup dried mixed fruit

1&1/2 cup apple cider vinegar

1cup white vinegar

2tspn salt

1tbs ginger

1 & 3/4 cup castor sugar
Spice Mix
1 tspn cinnamon

1 tspn nutmeg

1 tspn curry

1 tspn mustard

1 tspn Allspice

1/2 tspn ground cloves

2 tspn crushed garlic

1/4 tspn cayenne pepper

1/2 tspn hot chilli sauce
Instructions
Main ingredients method
1. Prepare fruit. Skin and deseed mangoes chop into ~1cm and smaller chunks. Peel core and finely chop apples. Chop pineapple small ~12cm bits. Finely chop chilli, seeds included.

2. Put main ingredients in slow cooker, stir well. Cook on high 2hrs.
Spice Mix
3. Add spices. Stir well. Cook on high for a further 2hrs.

4. Remove lid. Stir. Cook on low for 2hrs leaving lid off. Stir every 10-20min.

5. Use a soup ladel to pour into sterilised jars.
Notes
Makes 4-5 jars

Removing the spicy chilli sauce will make it acceptable for most.