Submitted by Katy Kat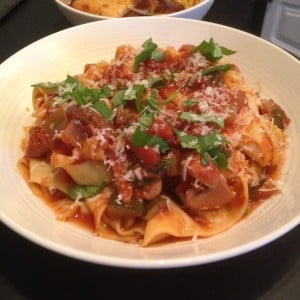 Spicy Pappardelle Vegetarian Pasta
Ingredients
4 tbsp extra virgin olive oil

6 garlic cloves, crushed

2 onions finely chopped (I used 1 brown onion and 2 small red onions)

2 celery sticks, finely chopped

3 x 400g tins chopped tomatoes (or 2 if you want it less saucy)

2 red chillies, deseeded and finely chopped (reduce the quantity if you want less spice)

250g chestnut mushrooms and

250g closed cup mushrooms, thickly sliced

I courgette diced

2 tsp Sriracha (hot chilli sauce) – OPTIONAL

2 tbsp tomato puree

1 tsp sugar

1 tbsp balsamic vinegar

Good big splash of red wine (optional but I do like to use wine when I cook lol)

1 tsp course ground black pepper and salt to taste

Fresh basil to garnish

600g Pappardelle pasta (or any pasta would do though I do use fresh)
Instructions
Mix all the ingredients except the pasta and basil in the sc pot.

Cover and cook on high for 1 hour and then low for 6 hours.

Once sauce is ready cook the fresh Pappardelle (I had to use fresh lasagne sheets cut into slices as could not get Pappardelle!! Lol) add some torn basil to the pasta sauce ......... stir and then add the sauce to the pasta!!

Serve with freshly grated Parmesan and some fresh bread.