I admit, when it comes to multi-cookers I'm a hard sell.
Many have slow cooking limitations.
This one however, really may be the one that changes my mind!
It overcomes every hesitation I have with other multi-cookers and really delivers on the slow cooking side of things – not to mention everything else!
One cooker really can have it all!
With the Russell Hobbs Good to Go Digital Multi-Cooker you can choose from 8 Versatile Cooking Functions: Sear, Roast, Sous Vide, Slow Cook, Steam, Rice, Boil and Keep Warm.
Once dinner is cooked, the removable control panel comes away, so you can take your durable cast aluminium housing pot, straight to the table to serve.
Let's explore all these great features one by one!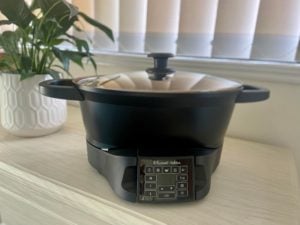 Features of the unit include:
6L capacity cast aluminium cooking pot.
Vented glass lid with cool touch handle.
Digital control panel (fully removable).
Steaming rack.
Roasting rack.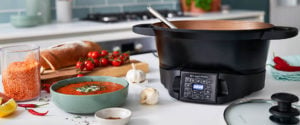 8 Cooking Functions:
SLOW COOK:
Naturally this is the one I'm most interested in 🙂
Something many multi-cookers lack is the option to vary the heat settings in slow cooking mode. This Russell Hobbs cooker is not one of those!
You can choose between HIGH and LOW for your slow cooking which is fantastic!
At the end of the selected cooking time, it then automatically switches to KEEP WARM without you having to be there to do so. Another fantastic option for your slow cooking, especially for those working long days.
This cooker even has a nifty little setting that if a power outage etc. interrupts cooking, so long as it returns in less than 2hrs the unit will remember your programmed cooking times etc. and continue cooking once power returns!
The unit has default settings for 8hrs low and 4hrs high, but both can be adjusted with the time selector buttons up or down.
Keep warm will go for a maximum of 4hrs (though I do find for quality results 2hrs is my preferred maximum on keep warm)
The 6L bowl capacity is plenty of room for large family meals, roasts, soups and anything else you'd like to slow cook 🙂
Unlike many other multi cookers with lock down lids, this unit's glass lid means you can still use the 'tea towel trick' too!
Love it 🙂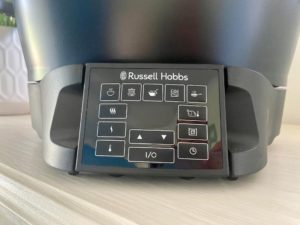 SEARING:
I love a slow cooker with a searing function.
There are many reasons for searing/browning your dish before slow cooking. You can read them HERE.
If you slow cooker doesn't sear or isn't safe to sear on the stove-top, then you have extra dishes and extra mess – no one wants that!
The Russell Hobbs Good to Go Digital Multi-Cooker sears IN the unit itself, no mess, no lost flavour, maximum convenience.
The setting is like a fry pan setting so you simply select it on the control panel and sear, brown or sauté.
The sear mode has a maximum of 1hr cook time and you can add butter or oil etc if needed, just as you would in a frypan.
You can then move into slow cooker mode or otherwise 🙂
ROAST:
Use the included roasting rack to place your food on and roast right in your multi-cooker.
Like the slow cooking setting, when your selected roast time is completed, the unit will then automatically switch to KEEP WARM mode for a maximum of 4hrs.
The approximate maximum capacity for roasting is 1.8 – 2.2kg chicken or a 1.3 – 1.8kg roast.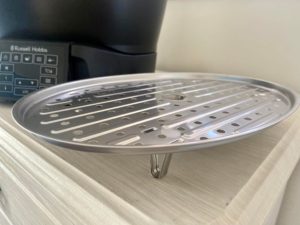 SOUS VIDE:
'Sous Vide' translates to 'under vacuum'. This setting lets you regulate the temperature of the water in the water bath, cooking your food inside a sealed pouch. This retains the juices and subtle flavours that would be lost during conventional cooking.
For Sous Vide cooking you need a bag or pouch to place the ingredients in. This can be either single use zip lock bags (the unit comes with instructions in the booklet how to use these), reusable silicone bags, or a vacuum pack machine option.
The default setting for sous vide in the Good to Go Digital Multi-Cooker is 57 degrees Celsius, however you can adjust that up and down depending on your needs between 38-96 degrees.
Like the slow cooking setting, when your selected sous vide time is completed, the unit will then automatically switch to KEEP WARM mode for a maximum of 4hrs.
STEAM:
You can use this setting for anything from vegetables to fish, homemade dumplings or steamed puddings.
Add approx. 2cm of water to the cooking pot (this will give approx. 30mins of steaming time), place the included steaming rack in, then place the food you wish to steam on the rack.
So simple!
Set the time you want, the unit will reach 100 degrees Celsius then begin the countdown on your selected cooking time.
Your instructional booklet comes with handy suggestions for steam time of various meats and vegetables.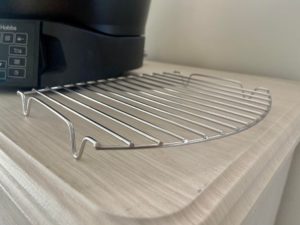 RICE:
The rice setting lets you cook your favourite rice dishes with ease!
Your instructional booklet comes with a rice cooking chart for cook times of various weights/serves of rice, both white and brown.
The rice mode also switches to KEEP WARM when your selected cooking time has elapsed.
BOIL:
Boiling is as easy as it sounds!
Add the water and ingredients and away she goes.
The default boiling time is 30 minutes, but you can adjust up to a maximum of 2hrs.
Boil your favourite pastas, potatoes, vegetables of even pulses such as lentils with this function.
It's also great for reheating any sauces for your dishes too!
KEEP WARM:
Important reminder, this setting is not for cooking food. Only to keep food cooked warm once it's already cooked.
While various cook settings as discussed above will move to keep warm setting at the end, you can also choose it directly.
Keep warm can be set for a maximum of 4hrs.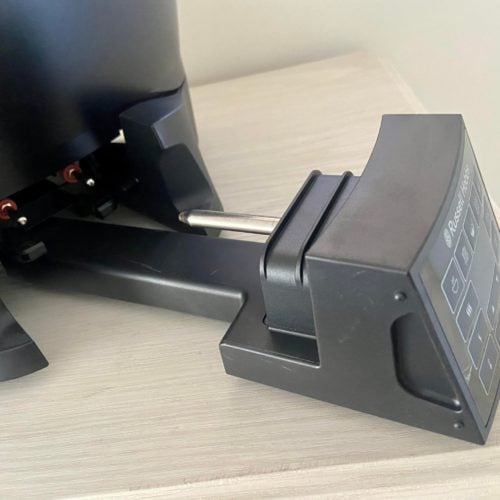 Serving & Cleaning
One of the most impressive features of this unit is the fully removable control panel!
This means you can remove the panel and power cord to serve straight to the table.
Easy to store this way too.
More importantly though, once removed, this makes the cooking pot and lid completely submersible!
You can wash it by hand in warm soapy water, or pop it in your dishwasher for an easy and complete clean!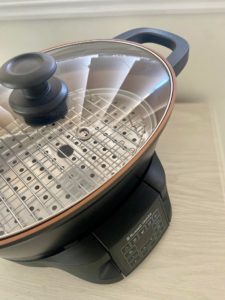 I really am so incredible impressed with this unit!
What an amazing all rounder!
RRP: $169.95
2 year warranty
Available at: Good Guys, Harris Scarfe, Amazon, Catch, Bi-Rite, Retravision, Billy Guyatts, Stan Cash