Submitted by kylie-louise arnold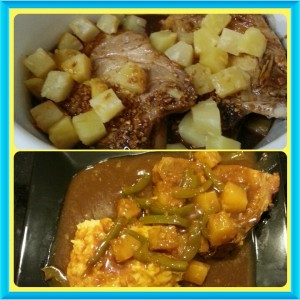 Pineapple pork chops
Ingredients
4 pork chops

400g pineapple chunks

1 packet of french onion soup

1 green capsicum / pepper sliced

1 tbs of brown sugar

3 tbs of tomato sauce

2 tbs of white vinegar

1 tsp of soy sauce

1/2 tsp of mustard powder

2 tbs of corn flour

3 tbs of roast meat gravy

1 1/2 cups of water

salt and pepper for seasoning
Instructions
Season the pork with salt and pepper and lightly brown.

Mix together 1 cup of water, soup mix, vinegar, sugar, tomato sauce,soy sauce, and mustard powder.

Pour over the pork pineapple and capsicum.

Cook on high for 3-4hrs or until pork is soft and tender.

The last 30 mins of cooking mix together 1/2 cup of water with the corn flour and roast meat gravy stir till nice and thick.

You can add more water through out cooking if you like.