Submitted by mary macmillan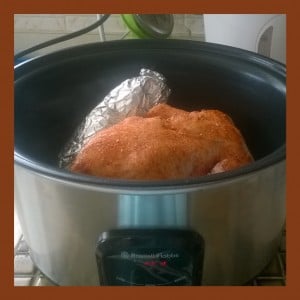 Paprika Chicken and Curry Herb Stuffing.
Ingredients
1 thawed, whole chicken,

2 tablespoons oil,

1 tablespoon flour,

1 tablespoon paprika,

Salt and Pepper

1 teaspoon garlic powder, OR granules.

2 twigs fresh thyme.

Stuffing:

5 slices stale bread,

onion peeled and diced,

1 teaspoon mixed herbs,

1/2 teaspoon hot curry powder or amount to your taste.
Instructions
Place onion bread, herbs, s/p, curry powder in a mini whiz combine till mixture is crumbly.

Roll stuffing up tight in atin foil log.

Rinse chicken cavity with cold water, pat bird dry with paper towels.

Place thyme twigs up cavity, rub oil over chicken.

Mix flour, paprika, salt, pepper andgarlic powder together.

Spoon paprika mix all over bird both sides.

Place a little up turned plate in bottom of cooker sit chicken on it,( this keeps chicken out of any fat or juices)

Put tin foil log of stuffing in beside it then place lid on and cook 6-7 hours on low, depends on your cooker.