Submitted by Julie Goodman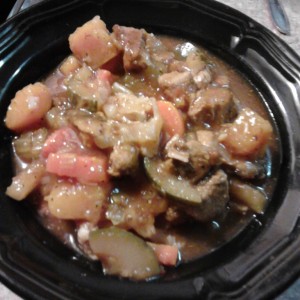 Autumn Pork Stew
Ingredients
1 1/2 pounds lean pork tenderloin, cubed

2 cups sliced carrots

1 cup sliced celery

2 cups sliced leeks ( can substitute 1 cup regular cooking onion )

1 1/2 cups sliced zucchini

1 package mushrooms,8oz/227g, sliced

3 1/2 cups cauliflower, cut into small bite size chunks

4 cups butternut squash, cubed

1 large can ( 28oz/796ml ) diced or crushed tomatoes

1 carton of beef broth, 900mls

1 teaspoon black pepper

2 teaspoons italian seasoning

1 teaspoon dried red chili pepper flakes ( or substitute hot sauce to taste)

2 teaspoons worcestershire sauce

1/2 teaspoon salt ( or to taste )

flour/cornstarch mixed with water to thicken later
Instructions
**You can sear the pork before adding if you prefer,while you prep the veggies, but it's not necessary.**

Prepare all your veggies, then throw everything into a large slow cooker. I used a 6 quart and it was full to the top. Stir well to mix. Cover and set to Low for 6-8 hours. I stirred in a little flour and water slurry to thicken it up about 30 minutes before serving.

You can customize this to use whatever vegetables you have on hand, there is no right or wrong here!