This dish smells simply AMAZING ! Not only does it smell god but it tastes even better ! The tender veal with the lovely full flavoured sauce and the gremolata just adds that freshness and abit of tang ..it really is the perfect combination
Submitted by Jarrah king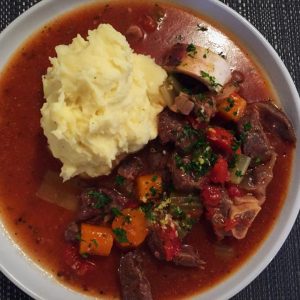 Osso Bucco with Lemon and Parsley Gremolata
This dish smells simply AMAZING ! Not only does it smell god but it tastes even better ! The tender veal with the lovely full flavoured sauce and the gremolata just adds that freshness and abit of tang ..it really is the perfect combination
Ingredients
6 x veal osso buco

75g plain flour

sea salt and cracked black pepper

40g butter

1 onion, chopped

3 cloves garlic, crushed

2 stalks celery, finely chopped

3 bay leaves

10 sprigs thyme

1 cup chicken stock

2 tablespoons tomato paste

180ml white wine

1 tin of diced tomatoes
Gremolata
1/3 cup of finely diced parsley

1tbs of finely grated lemon rind
Instructions
Coat the veal in flour and shake of excess. Heat butter in fry pan and brown veal pieces (optional)

Place all ingredients into the slower cooker and cook on low for 4-6 hours or until veal is tender.

For the gremolata combine ingredients in a small bowl and sprinkle over osso bucco once cooked.

Serve over mashed potato.
Notes
This dish smells simply AMAZING ! Not only does it smell god but it tastes even better ! The tender veal with the lovely full flavoured sauce and the gremolata just adds that freshness and abit of tang ..it really is the perfect combination