A tasty dish suitable for whole family
Submitted by Karen Stuckings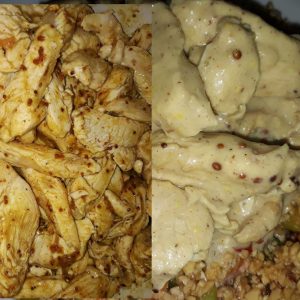 Honey Mustard Chicken (with or without cream)
A tasty dish suitable for whole family
Ingredients
1kg sliced chicken breast (I browned but its optional, see notes)

4 tablespoons Honey

3 tablespoons American mustard (4 tablespoons if adding cream)

3 tablespoons Whole grain mustard (4 tablespoons if adding cream)

1 tablespoon Worcestershire sauce

1 tablespoon Chinese cooking wine

2 tablespoons Lemon juice

2 tablespoons Brown sugar

1/2 teaspoon Cinnamon

1/2 teaspoon Nutmeg

1 teaspoon Onion powder

1 teaspoon Garlic powder

4 whole Cloves crushed

300 mls Cooking cream (optional)
Instructions
Place all ingredients into slow cooker except for cream

Mix well

Cook on low 3-4 hours low

If having creamy version add cream now before thickening

Thicken if you wish to your liking (see how to thicken blog)
Notes
Recipe came from reading ingredients on a jar and then just going by my personal taste. The spices seem strong when you add them but they become more mild so don't worry. I found once cream was added that it needed more mustard. Go by personal taste when adding.

I find when doing a chicken dish especially with cream that if you don't brown you get that split look, browning first helps with that.

Cooked in aldi 3L slow cooker.