Submitted by Greta Wathen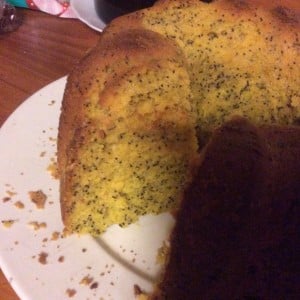 ORANGE & POPPY SEED CAKE
Ingredients
1 Orange,

200 grams butter,

1/2 cup castor sugar,

3 eggs,

3/4 cup milk,

2 cups SR Flour,

1/3 cup poppy seeds.
Instructions
I put the Orange into my small slow cooker and cooked it on high for 2 - 3 hours. (until the Orange was soft )

Take the Orange out of the water and I put it into my blender. I blended all the orange to a pulp and then added the butter and sugar.

Blended that and then added 1 egg at a time until mixed.

I took the lid off my blender and added the milk and flour. Mixed that until smooth.

Then I added the poppy seeds and mixed that with a wooden spoon.

I used a silicone mould and cooked on high for 2 1/2 hours on high with a tea towel under the lid.

My medium cooker is a little slower than normal, so just check as you go.