Submitted by Gail Burge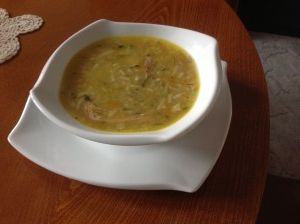 Nanna's Famous Chicken Soup
Ingredients
Left over Roast Chicken Carcass, or shredded Roast Chicken

(Note you will get more flavour from using the carcass with meat on)

2 Grated Potato's

2 Grated Carrots

1 Large Grated Zucchini

1 Large Brown Onion (finely diced)

2 Pkts Chicken Noodle Soup Mix

2.5 - 3 Litres Chicken Stock
Instructions
Everyone has a special recipe passed on from either their mother or Grandmother.

This is my Nanna's Chicken Soup and has been a favourite for years. It's easy and so

nourishing.

Method:

Place all ingredients in Your Slow Cooker.

Give a good stir to mix

Add salt and pepper to taste

Cook on High for 3-4 hours or Low for 6-8

Remove Carcass and any bones from soup

Save any chicken left on bones and re-add to SC

Great served as an entree, lunches on cold days

Or as an after school warm up treat in winter.