Submitted by Amy Robinson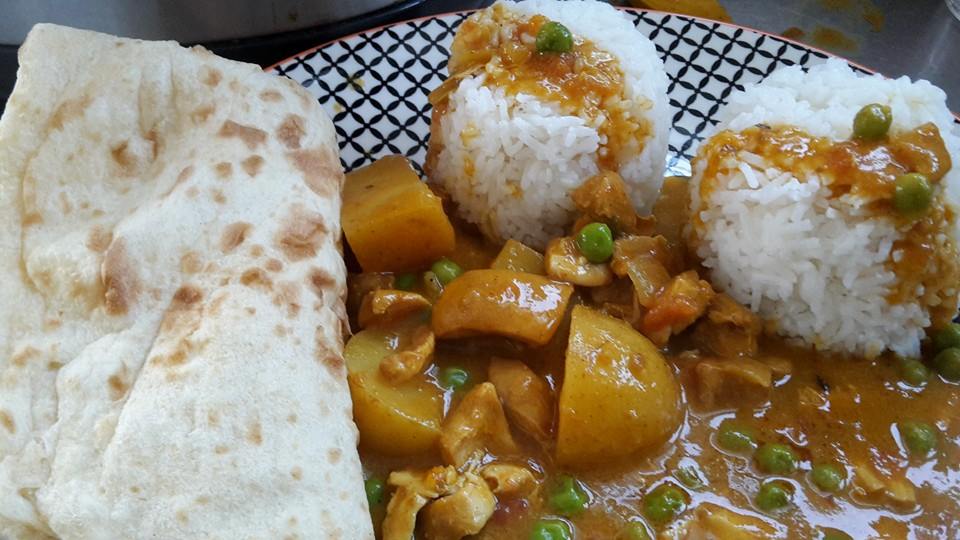 Family Favourite Easy Chicken Curry
Ingredients
1 – 1 1/2 pounds/450-600grams chicken thighs, cut into 1″ cubes

1 pound/450grams red or another waxy potato, cut into 1″ cubes

One 15 ounce/440ml can diced tomatoes

3/4 cup light cream or coconut milk or coconut cream

1 small onion, diced

1 Tablespoons minced fresh ginger

1-2 Tablespoons curry powder-to taste, 2T of mil dis fine for kids (my kids)

1/2 teaspoon salt

juice of 1 lemon, optional

1 cup peas

1-2T sugar to taste, optional

4-6 cups hot cooked rice, for serving
Instructions
1. Have a slow cooker ready to go. Place chicken and potatoes into the slow cooker.

2. Mix tomatoes, cream (or coconut milk/cream), onion, ginger, curry powder, and salt in a medium bowl. Taste and add more curry powder if necessary. (Remember that it will taste a little salty, but it will be seasoning the potatoes and chicken, so its ok)

3. Pour the sauce over the chicken and potatoes. Place lid on slow cooker and turn to low or high. Cook for 2 1/2 to 3 hours on high and 5-6 on low. During cooking, add sugar if you desire.

4. Before serving, add the lemon juice, if desired, and peas. (The peas will cook from the residual heat.)

5. Serve with hot cooked rice.