How good does that look!? 🙂
Submitted By Stephanie Whitworth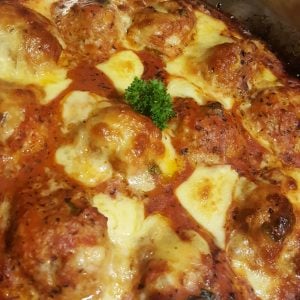 Mozzarella Stuffed Meatballs
How good does that look!? 🙂
Ingredients
Meatball Ingredients:
500g Pork mince

Small handful of Baby Spinach

1 Lrg Egg

1/2 Cup Panko bread crumbs

Garlic (if you're like me... lots)

1/2tsp Onion Powder

1/2tsp Garlic Powder

1/2tsp Paprika

1Tbs Worcestershire sauce

2Tbs Fav BBQ Sauce

3Tbs Tomato Sauce

1Tbs Parmesan

Sprinkle of Basil

Mozzarella
Sauce:
Favorite pasta sauce

(Mine was Five Brothers 'Creamy tomato, garlic & basil')

1/2 cup of Bacon - diced

2Tbs onion
Instructions
Mix all of the meatball ingredients together and form balls around pieces of mozzarella

Fry off Bacon, Onions and Garlic.

Brown meatballs in pan and transfer to slow cooker.

Cover with sauce and some extra mozzarella, cook in high for 4 hours.

Serve over pasta.

Alternatively you can place all ingredients in to the slow cooker at once and cook.