German style curried pork sausages that is available in summer music festivals around Germany
Submitted by Keith Hechinger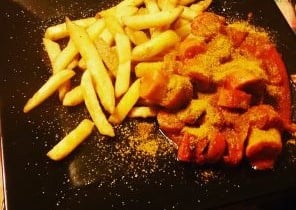 Currywurst
German style curried pork sausages that is available in summer music festivals around Germany
Ingredients
8 pork sausages

1 cup of passata

1 cup of tomato sauce

1/2 cup of water

1 small onion (finely chopped)

1 tsp of cumin

1 tsp of paprika

4 tsp of curry powder
Instructions
Combine the ingredients beside the sausages in the SC and then add the raw sausages.

Turn it on high and leave it for 1.5 hours.

Then take the sausages out and cut them into bite size pieces and put it back in the sauce and leave it for half an hour.

Serve it with a sprinkle of curry powder on top along with chips.
Note
For a traditional currywurst, go and get some Weissewurst (White sausage) if you know where to get it. This recipe is based on what's widely available