Loaded Pumpkin Soup
Submitted by Sharon King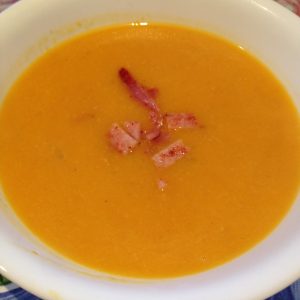 Loaded Pumpkin Soup
Loaded Pumpkin Soup
Ingredients
1.2 kg Kent pumpkin

400g potato

250g bacon (short cut)

200g sweet potato

200g brown onion

1 tbs crushed garlic

2 tsp curry powder

3 tbs vegeta

1 ltr hot water

Light sprinkle of nutmeg

250ml Philadelphia Cream
Instructions
Peel and dice all vegetables.

Add all ingredients (except cream) to SC.

Blitz when soft and add

250ml Philadelphia cream for cooking and cook for a further hour.

Cook on high for approx 6 hrs.

Cooked in 6 litre SC.

Serve topped with a little crispy bacon and warm crusty bread.