Lindt Chocolate and strawberry delight
Submitted by Rebecca Cole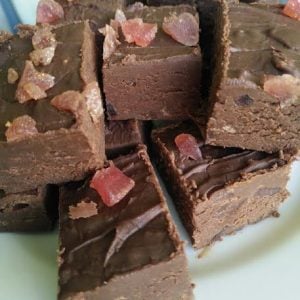 Intense Strawberry Fudge
Lindt Chocolate and strawberry delight
Ingredients
400g Lindt Strawberry Intense Chocolate

200g Dark Chocolate

395g Tin of Condensed Milk

80g Dried Strawberries (diced)
Instructions
Place all chocolate and condensed milk in slow cooker.

Place slow cooker on high and stir with a metal spoon every 10 to 15 minutes, for around 1 to 1.5 hours.

When chocolate is nearly melted, stir in 3/4 of the diced, dried strawberries (save some for topping).

If mixture becomes too think, add a tablespoon of milk at a time and stir briskly after each addition, until smooth.

When ingredients are combined and a thin crust begins to form between stirs, pour mixture onto a tray, lined with baking paper.

Sprinkle remaining diced strawberries over the top.

Cover and place in fridge to set.

Enjoy!