Submitted by Carol Wilkinson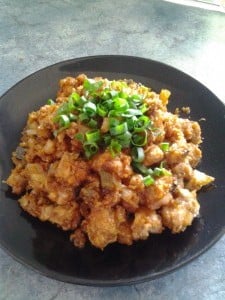 Honey & Lemon chicken
Ingredients
4 chicken thigh fillets cubed

3 tbsp cornflour

1/3 cucumber deseeded & diced

1/3 capsicum diced

1 onion diced

1 teas crushed garlic

1/3 cup of ketchup

1/2 cup of honey ( more if you want it a bit sweeter)

Juice of 1 lemon

2 tblsp of olive oil

3 tblsp of extra oil for frying the chicken
Instructions
Place cornflour into freezer bag.

Put the chicken in & place in freezer until you prepare everything else.

Just place all the ingredients in a dish mix well,set aside.cut & dice the veges.

In a fry pan pour in the extra 3 tblsp of oil,heat then slowly add chicken & cook until lightly brown.

Then add veges stir threw for a few minutes.Then spoon into Slow Cooker.Pour over the sauce mix through.

Then place tea towel on then lid & cook on high for 1 1/2 -2 hrs depending on your cooker...