Nan's Recipe – the very best kind!!
Submitted by Melissa McClelland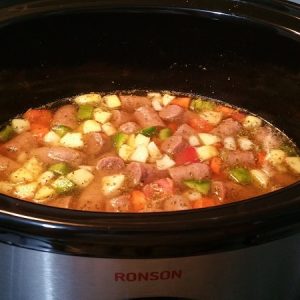 Curried Sausages
Nan's Recipe - the very best kind!!
Ingredients
• 8 sausages

• 1 onion

• 2 carrot

• 3 sticks celery

• 1 small apple

• 1 banana

• 1 peeled tomato

• ½ green pepper

• 1 tsp. curry powder

• 1 tsp. sugar

• Salt & pepper (can leave till served if you wish)

• 1 beef and 1 chicken (either stock cubes or teaspoons of powdered stock)

• Pinch cumin

• 1 tsp. oregano

• ½ cup long grain or similar rice
Instructions
Boil sausages until skins fall off.

Chop into chunks, I did 6 chunks per sausage.

Add all ingredients to slow cooker bowl.

fill with water just to cover (I used 3 cups to start with, and added 1 more half way thru as it had fully absorbed) you may need more or less depending on how hot yours runs.

Cook on LOW for 6-8 hours depending on your slow cooker.

This recipe can easily be doubled or tripled depending on how much you want.

A great way to get both fruit and veges into a main.

My nans recipe.