Submitted by Maria Ahlrichs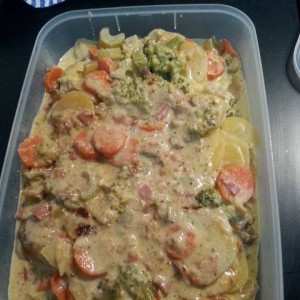 Creamy Vegetable Bake
Ingredients
6-8 cups any veggies sliced - I used red onion, carrot, celery, potato and broccoli

5 pieces short cut bacon diced

500mls thickened cream

1/2 - 1 packet packet French onion soup mix

White sauce (recipe below)

Salt & pepper

WHITE SAUCE:

2 cups milk

40g butter

3 tbsp flour

salt & pepper
Instructions
Saut onion and bacon in fry pan with a little olive oil

Layer veggies in crock pot a little at a time adding some bacon/onion mix and cream between each layer

Finish with remaining cream, then sprinkle soup mix over top

Prepare white sauce, then pour over top of veggies.

Mix flour, milk, salt & pepper with whisk very well.

Heat the butter in a small - medium sized saucepan.

Add the mixture; Stir until the sauce is smooth and thickens. Not too thick (Do not burn the mixture!!)

Salt and pepper to taste.

NOTES:

Add some grated cheese on top 30 mins before serving.

I made the white sauce as I felt the cream wasn't enough liquid - you could simply add more cream if preferred!

This amount of veggies barely filled half way up my 5.5L Slow Cooker. You can easily double the recipe and have enough to feed a small army! 🙂

Cook on low 6-8 hours or until veggies are soft.