Submitted by Felicity Barnett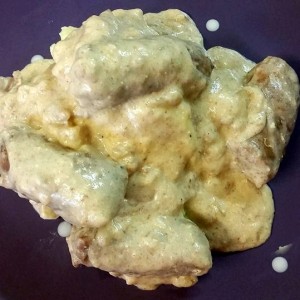 Creamy Pork and Lemon Sausages
Ingredients
8 Pork and Lemon Sausages (pork, lemon zest, pepper, garlic, rosemary and thyme) - GF

250mls Vegetable Stock

200mls Cream (I used Zymil LF cooking cream)

2 tblspns Cornflour 

pinch Salt (if required)

pinch Ground Pepper 

1/4 tspn Rosemary, fresh

1/4 tspn Thyme, fresh

2-3 tspns Lemon juice, freshly squeezed
Instructions
Cut sausages in half and place in sc bowl.

Combine stock, cream and cornflour in a jug. Whisk together. Add pepper, rosemary and thyme to jug.

Pour over sausages.

4-5hrs on low ( Crockpot 3.5L sc)

Add lemon juice with about an hour to go.

If needed add salt.

Remove lid if it needs to thicken.

Remove sausages and place on mash, stir sauce and ladle over sausages to serve.
Note
Egg, Gluten, Lactose and Soy free
Optional Version for plain pork sausages
add

2 cloves Garlic, crushed

1/4 tsp Lemon zest

and alter the

Thyme to 1/2 tspn

Rosemary to 1/2 tspn