Submitted by Shaya Wright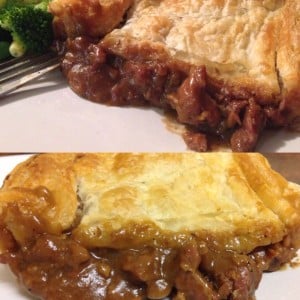 Chunky Steak Pie
Ingredients
1kg chuck steak diced

1 onion diced

1 can condensed cream of chicken soup(no water added)

1 beef stock cube(no water)

3-4 tablespoons of gravox (dry)

1 teaspoon of minced garlic

1/2 teaspoon of pepper

About 1 tablespoon of tomato sauce(maybe a little bit more)

Splash of worcestershire sauce
Instructions
Coat beef in flour and brown in butter over medium heat(doesn't have to be fully cooked through) add onion half way through to soften.

Mix all other ingredients in slow cooker and add beef. Cook on low for 8 hours.

If mixture starts to get dry add a little bit of water, depending on slow cooker heat.

Preheat oven to 170 degrees.

Line baking dish with puff pastry, scoop beef mixture in and put a sheet of pastry on top and cut to fit dish.

Cook in oven for about 20 minutes or until pastry is a nice golden colour.

No need to blind bake pie base.