Submitted by Rita Vella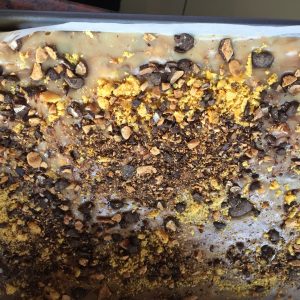 Caramelised Almonds and Honeycomb Fudge
Delicious treat. But try stopping at one piece.
Ingredients
1x Can Condensed Milk

1 tablespoon Butter

1 tablespoon Vanilla Essence

620g White Chocolate

120g Choc coated Almonds

45g Honeycomb
Instructions
Place all ingredients in slow cooker except almonds and Honeycomb

On high. Lid off

Stir choc mix every 10-15 mins making sure choc is melting and ingredients are combined. Once melted add 2/3 of Almonds and Honeycomb to the mix.

Place mixture in a lined tray.

Sprinkle to with the leftover almond and Honeycomb.

Place in fridge overnight

When set cut into pieces and enjoy.

Keep in fridge. Enjoy!!!