Submitted by Julie Abbott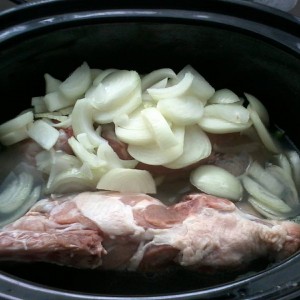 Budget Winter Chicken Soup
Ingredients
2-3 chicken frames

1 pkt minestrone or vegetable chicken soup mix (I used Kings brand)

2L Water

Sliced carrots

Diced Capsicum

Mushrooms

Cubed potato

Cubed Kumera

Diced/sliced onion

Slices of parsnip

1tsp minced garlic

salt and pepper
Instructions
Add chicken frames to soup mix and water, add veges which can basically be any vegetables you have on hand - use seasonal to keep the cost down.

Cook on low for 6-8 hours.

Take out chicken frames (careful so they do not fall apart) and let them cool enough that you can handle them, strip them of the meat (you get a lot of meat from the frames) and return the meat to the soup.

You can either serve as it is, or put a whisk through it to make it a creamy soup (thus hiding the vege from children). Serve with toasted rolls or garlic bread.
Notes
This recipe is my 6 yr old special needs son's favourite, so easy he does most of it himself and is guaranteed to go back for seconds, perfect for in the middle of winter.

You can also substitute the chicken with any meat or even leave it out to be a vegetarian option.

Makes a huge 6L slow cooker full.