This is a bowl full of deliciousness. The Beef Cheeks melt in your mouth.
Submitted by Ange Marie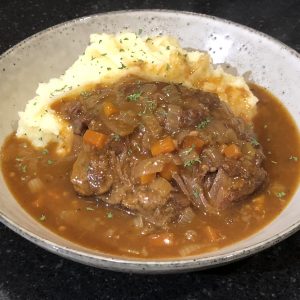 Braised Beef Cheeks
This is a bowl full of deliciousness. The Beef Cheeks melt in your mouth.
Ingredients
1kg Beef cheeks.

5 tbs plain flour seasoned with a good pinch of salt & pepper (set 2 tbsp aside)

3 tbs oil

60 g butter

3 onions, halved thickly sliced

2 medium carrots, diced

1 celery stalk, diced

4 garlic cloves, finely chopped

1 tsp dried thyme leaves

2 tbsp Cabernet Sauvignon red wine (optional)

3 cups Continental superb beef stock.

1 tsp Vegemite

1 tbs tomato paste

1 tbs Worcestershire sauce

Salt & pepper to taste.
Instructions
Set slow cooker on sear mode.

Dust steak lightly with seasoned flour.

Heat oil in slow cooker and brown cheeks on all sides.

Remove and set aside on a plate.

Add butter to slow cooker and mix with the pan juices.

Add onions, carrots, celery, thyme and garlic and cook until onions are transparent.

Add red wine let it cook off for about 30 seconds.

Stir in extra flour and cook for 2 minutes.

Gradually add stock, stir until sauce boils and thickens a little.

Add Vegemite, tomato paste and Worcestershire sauce and stir to combine.

Put cheeks back into slow cooker and coat with the sauce.

Wrap the lid in a tea towel or slow cooker lid cover.

Cook on LOW for 4hrs or until cheeks are tender and just about to pull apart.

Remove cheeks to a plate.

Taste the sauce add salt & pepper if needed.

Mix 2 tbsp cornflour with a little water to make a runny paste.

Stir through the sauce, add the cheeks back to the sauce and let it cook for another 30 minutes.
Notes
Serve with mash potatoes and crusty bread to mop up any leftover sauce on your plate.

Browning the meat will add more flavour to the dish.

Any left over sauce can be used as a gravy.

Freeze in portion sizes and when you need it heat it up and use with any beef cut.

I used the sunbeam secretchef slow cooker.