Submitted by Trica Sheppard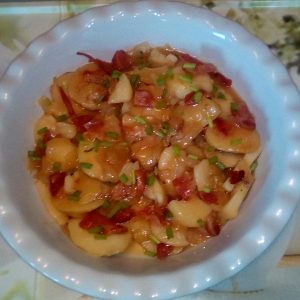 Slow Cooker German Potato Salad
Ingredients
3 pounds/1.3kg red potatoes (about 8 medium)

1 pound/0.5kg bacon strips, chopped

1 large onion, chopped

3 tablespoons all-purpose flour

2/3 cup sugar

1/3 cup packed light brown sugar

2-1/2 teaspoons salt

1/2 teaspoon pepper

1/3 cup cider vinegar

2 cups water

Minced fresh chives, optional
Instructions
Place potatoes in a 6-qt. stockpot, add water to cover. Bring to a boil. Reduce heat, cook, uncovered, just until potatoes are tender, about 15 minutes. Drain, cool slightly.

In a large skillet, cook bacon over medium heat until crisp, stirring occasionally. Using a slotted spoon, remove bacon to paper towels, reserving 3 tablespoons drippings.

For dressing, saute onion in drippings over medium-high heat until tender, 4-6 minutes. Stir in flour until blended. Stir in sugars, salt and pepper. Gradually stir in vinegar and water, bring to a boil, stirring constantly. Cook and stir until slightly thickened, 4-6 minutes.

Slice potatoes; place in a greased 5- or 6-qt. slow cooker. Top with dressing; sprinkle with bacon. Cook, covered, on low until heated through, 3-4 hours. If desired, sprinkle with chives.