Submitted by – Di Rowlands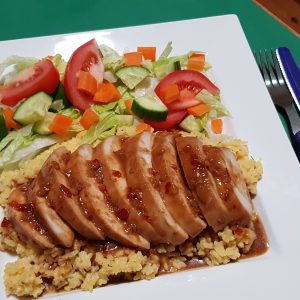 Chinese Style Chicken
This Chinese style chicken recipe is simple and delicious, and kid friendly.
Ingredients
Sauce
1/4 cup Hoisin sauce

1/4 cup Sweet Chilli sauce

1/4 cup Soy sauce

1/4 cup water

5-6 drops of Sesame oil

4 cloves of crushed garlic
Instructions
Mix all sauce ingredients together in a jug or bowl to combine.

Place whole chicken breasts in a single layer in your slowcooker.

Pour sauce over the chicken.

Cook on low for 4 hours.

Once cooked, slice the chicken to serve, and pour over as much or as little sauce you like.

You could serve it on a bed of any type of rice or noodles you prefer, and any salad or veg you like.

Please note....as every slow cooker cooks differently, you may find you need to adjust cook time. I used my Breville 7 litre slow cooker , which seems to cook quite hot, for only 2hrs cook time

Hope you enjoy!