Submitted by Callie Thompson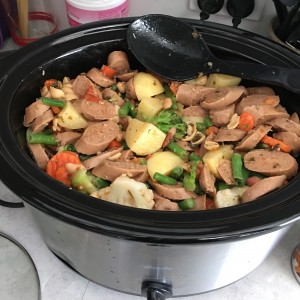 Banger Stew
Ingredients
15 sausages (boiled first)

2x tins of campbells minestrone soup

2 teaspoons of minced garlic

1.5 teaspoons of mixed herbs

6 small/medium potatos pealed (par boiled)

5Tbsp Powdered chicken gravy (Add till desired thickness)

500gm winter frozen vegies
Instructions
1. Boil sausages. Remove skin once cooked and chop to desired thickness.

2. Peel and chop potatoes then par boil them. I add no salt to water. Drain water.

3. Add all ingredients and add gravy to the desired thickness( It works well with any thickness).

4. Cook on low for 8hours with lid on stirring when you can. Serve!
Notes
I cook using a 6ltr slowcooker and a family of 4 so add whats ample for you and your slowcooker.

Fresh vegies can be used instead of frozen, you may have to par boil or steam them first.

Servings amount is based on our portion size of 350gms.