Submitted by Nadine Mckellar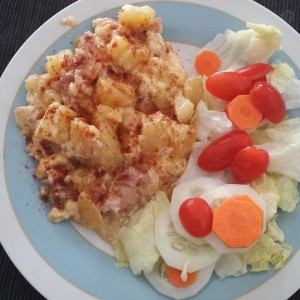 Cheesy Chicken and Potato Smash
Ingredients
1kg chicken thigh fillets, diced, some fat removed

Potatoes, skin on, medium diced (as many as you like)

Bacon pieces - as much as you like

1 - 2 tsp minced garlic

1 small onion, diced

2 tsp mixed herbs

Grated cheese

Paprika
Instructions
Add the chicken, potatoes, bacon, garlic, onion, and mixed herbs to your slow cooker and mix well.

Cook on HIGH for 4 hours

30 - 45 mins before the end of cooking sprinkle grated cheese on top and sprinkle with paprika.
Notes
Serve with a salad or steamed veggies

This is my take on a family favourite side dish, cheesy potato smash (recipe is on this site). Now it is a main dish.

You can change the flavours to suit your family and taste.