Submitted by Greta Wathen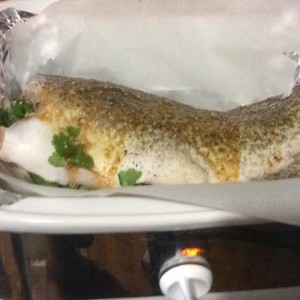 BAKED MURRAY COD IN ASIAN SAUCE
Ingredients
1 large whole Murray Cod fish,

2 limes, thinly sliced,

2 stalks of coriander roughly chopped stalks and roots included.

pepper to season.

The sauce....

2 cloves garlic, thinly sliced,

1 stick lemongrass,

1 small chilli, sliced thinly,

3 cm ginger. Thinly sliced,

1 tablespoon brown sugar,

2 tablespoons soy save,

1 tablespoon rice bran oil,

2 tablespoons lime juice,

1 tablespoon chopped fresh coriander.
Instructions
I lined the slow cooker with Alfoil and then with a layer of baking paper.

Then I stuffed the cavity of the fish with the 2 coriander stalks and the thinly sliced limes.

Seasoned with pepper and I did add a little salt, being a fresh water fish.

I placed the fish into the slow cooker.

I mixed all the other ingredients into a small jug and poured it over the fish.

I cooked the fish on low for 2 hours. It was beautifully cooked and juicy.

Enjoy.