Ambiano 3L Home Starter (sold by Aldi)
Now granted I have slow cookers that number in the double digits … but even I cannot resist a bargain to add to my collection and at just $19 this one had me lining up at Aldi for the doors to open so I could get my hands on one 🙂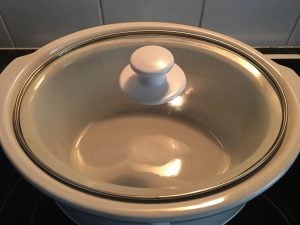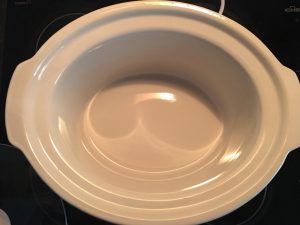 This slow cooker features a glass lid with plastic handle knob
A 3L capacity ceramic cooking bowl
2 side handles
A wrap around cooking element
An indicator light so you can see at a glance when it's turned on
And it comes with an instruction manual, a quick start guide and a 12 month warranty
Note: It is not dishwasher proof as per manual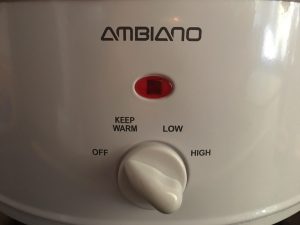 The Temperature Control Panel has the following options:
Off, Keep Warm, Low and High
The manual describes these settings as follow …
Low: This setting simmers food for longer periods of time without over cooking or burning.  No stirring required on this setting.  Ideal for vegetable dishes
High: This setting gets food to boiling point at a faster rate than low.  As food may boil on this setting add extra liquid.  Occasional stirring of stews and casseroles will improve distribution of flavours for food cooked at high heat
Keep Warm: This setting is not designed to cook food but to keep cooked food at the perfect temperature until ready to serve.  Maximum of 4hrs on this setting is recommended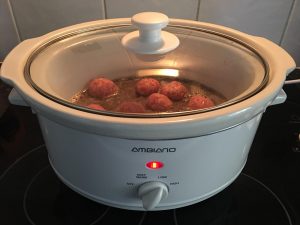 The Cooking Experience 
I found this to be a good slow cooker overall for it's price range 🙂
Having the keep warm function makes it stand out from others in this lower price range.
The 3L capacity is big enough for most main meals you'd want to cook but would struggle for some dishes like large lamb shanks or large roasts etc to fit them in.
It would also be a good addition for a family wanting the option of a smaller cooker to go alongside their larger slow cooker/s
I found it's cooking speed/heat level to be on the low side … this can be a real asset to those who work long days away from home and need a cooker that doesn't cook overly hot or fast to enable them a longer cooking time without their recipe over cooking.  This would be perfect for that!
Hopefully this review will be useful to anyone considering purchasing this unit.
If you have any more questions I may be be able to answer by all means leave them in comments below 🙂
Happy Slow Cooking!