I love coming up with a new recipe..
This is lovely & rich with the meat falling off the bone.
Submitted by Ange Marie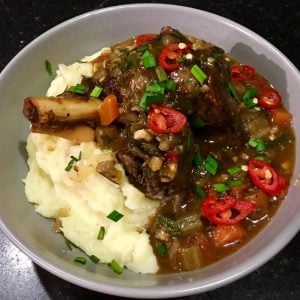 Lamb Shanks
This is lovely & rich with the meat falling off the bone.
Ingredients
2-4 lamb shanks

1 onion, diced

1 large carrot, diced

1 celery stalk, diced.

1/4 cup capsicum, diced

1/4 cup leeks, sliced

1/4 cup cabbage, diced

1/4 cup spinach, sliced (add before serving)

5 cloves garlic, finely chopped

2 sprigs rosemary

2 tbsp roughly chopped oregano, fresh

2 tbsp chopped garlic chives, fresh

1 tsp thyme leaves, fresh

3 tbsp roughly chopped parsley, fresh

2 bay leaves

2 cups liquid beef stock

1/4 can diced tomatoes.

2 tbsp pearl barley

2 tbsp of Worcestershire sauce

2 tbsp sweet chilli sauce.

1 tsp heap Vegetable Stock powder

1 tsp heap gourmet stock power.

1/4 tsp cracked pepper

Salt to taste
Instructions
Season lamb shanks with salt & pepper.

Preheat slow cooker in browning mode set to sear.

Add some oil, add shanks & brown on all sides. Remove shanks.

Add the garlic, onion, carrot, celery & leeks cook till onion is just soft.

Add the rest of the ingredients bring to the boil add lamb shanks and any juices. Stir well & put lid on. Cook on low for 6-7 hrs.

Add spinach before serving.

If you want to thicken remove shanks, add spinach & set slow cooker on browning mode (sear).

Mix 1 tsp of cornflour with a little water add to the gravy, mix well and let it boil for about 1 min.

Serve on a bed of mash potatoes.

Garnish with chopped chillis or some garlic chives.

If using dry herbs halve the amount in the recipe.

This can be frozen

I used the Sunbeam secretchef slow cooker.