Submitted by Eddie Hope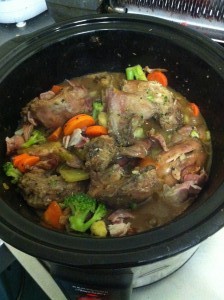 Wild Rabbit, Red Wine and Pepper Caserole
Ingredients
1 lrg Wild Rabbit cut into 6/8 pieces, about 1kg or heavier

1 packet of McCormick "Beef, Red Wine Caserole"

1 packet of Soup vegetables 9 potato, onion, carrot, celery and parsnip)

250 ml Red Wine ( i used Port, for a sweeter flavour!)

1 packet of frozen mixed winter vegetables.

Cracked Pepper to taste!
Instructions
Coat the Rabbit pieces with the Slowcooker seasoning! Put in SC!

Cut the Soupvegs into large chunks and coat with SC seasoning! Put in SC!

Mix rest of seasoning with Red Wine and put in SC!

Add cracked pepper to taste and cook for 4 hours on High!

Add packet of winter veggies and add to SC

Cook for another 2 hours on LOW!

Serve with mashed potatoes or on a bed of rice!