Submitted by Robyn Clark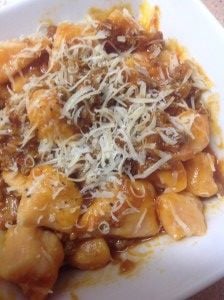 Tomato and Bacon Chilli Sauce with Sweet Potato Gnocchi
Ingredients
Sauce:

500 g mince or chicken thigh ( I used mince in the pic )

1 large jar of tomato based pasta sauce ( your choice, I used Aldi sun dried tomato)

1 Chopped onion.

4-6 rashers diced bacon

1 Tablespoon minced garlic

1 Teaspoon chilli powder ( adjust to your liking)

Sweet Potato Gnocchi:

2 medium - large sweet potatoes .

1 egg

Plain Flour.
Instructions
Fry off the onion, bacon , garlic and chilli, add to your SC.

Pour in the jar of tomato base and then rinse the jar with some water and add that too. Cook on High with the lid on while you make the gnocchi .

Steam the sweet potato in a steamer style saucepan. It's important to steam so no moisture is in the potato.

When done , mash it and allow to cool for about 20 mins. Add the egg and about a cup of plain flour and mix. Add more plain flour until you have a slightly sticky dough. The trick to fluffy gnocchi is not to over work the dough and just use enough flour to manage it . I dip my knife in the flour when cutting the pillows.

Place the gnocchi on a slightly floured tray until ready to cook. ( can be snap frozen and then bagged for freezing). I sometimes make my gnocchi the day before and wrap in glad wrap and store in the fridge.

The meat sauce takes about 2 -3 hours on high or you can cook it 4-6 on Low.

Cook the gnocchi in boiling salted water until it floats plus 2 minutes.

I add the gnocchi to the sauce and let it absorbs the flavours about 20 mins before serving ( lid off SC).