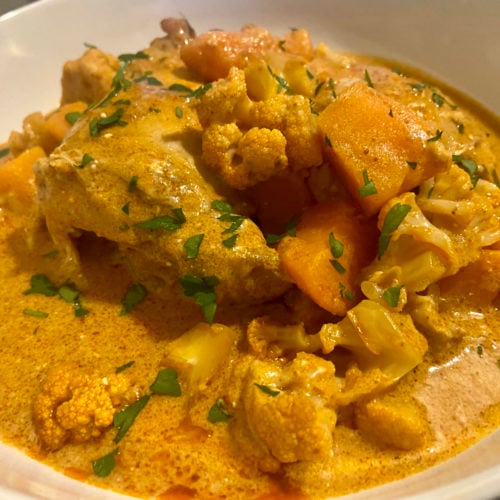 Tandoori Chicken
Delicious tandoori flavoured chicken with sweet potato and cauliflower
Ingredients
6

skinless, bone-in, chicken thigh cutlets (see note)

2

cups

diced sweet potato

2

cups

diced cauliflower

1

cup

(250ml) coconut cream

2

tsp

cornflour

120

gram

tandoori paste (I use Pataks)

3/4

cup

natural greek yoghurt

2

tsp

cornflour
Instructions
Place chicken in slow cooker. Add sweet potato and cauliflower.

Combine the coconut cream, cornflour and tandoori paste. Pour over chicken and vegetables.

Add cornflour to yoghurt and stir yoghurt gently through the chicken in the final 20mins.

Serve on rice.

We had 2 thighs per adult and one per child to serve 4, but you could increase to more thighs and add a little more veg if your family needed it and still have plenty of sauce to go around as is 🙂

Notes: Boneless thigh fillets could also be used if you prefer (reduce time to 4hs). Breast is also ok (reduce time to 3.5hs and keep veg smaller diced).

However, I find breast gives a more dry result than thigh which, in my opinion, is ideal to slow cook, so I definitely recommend using thighs instead.