Submitted by Sherrie Sutcliffe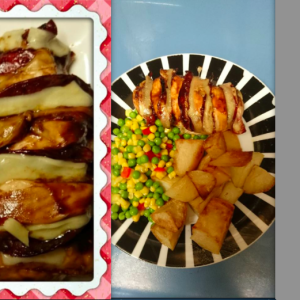 Swiss Cheese Chicken & Salami With A Balsamic Vinegar Glaze
Ingredients
3/4 cup tomato sauce

3/4 cup balsamic vinegar

1/3 cup brown sugar

1/2 teaspoon garlic powder

1/2 teaspoon onion powder

1 1/2 Tablespoon Dijon mustard

4 pieces salami

4 -6 pieces Swiss cheese

2 chicken breasts
Instructions
Cut 4 slits in each of the 2 chicken breasts.

Cut salami and Swiss cheese pieces in 1/2.

Fill slits with 1 piece of cheese and 1 piece of salami.

Mix all other ingredients together and glaze over to chicken breasts. Keep basting with sauce till cooked.

I added more cheese sliced at the end for more melted cheese.

If desired, you can 1st soak chicken in 2 cups milk for 1/2 hour to help keep chicken moist.